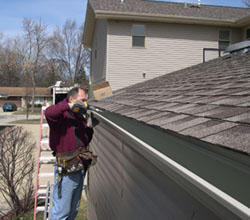 W. Brothers Roofing can run seamless aluminum gutters right at your house. We only use the highest quality .032 gauge aluminum assuring you the strongest, longest lasting system.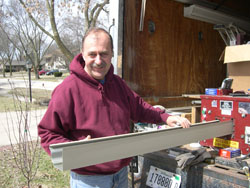 This allows us to create the exact length, perfectly seamless gutter required to best fit your needs

There are many colors available, so finding a shade to fit your color scheme will not be a problem.
The gutters and downspouts are available in the standard size and also oversized.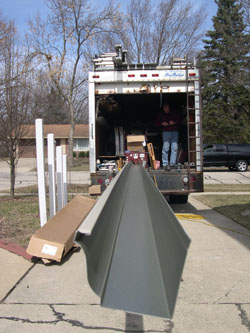 Improve the look of your home while protecting your investment with seamless aluminum gutters.
Because of the amount of precipitation Northern Illinois receives on an annual basis, it's necessary for area homes to have quality gutter systems.
A quality gutter system can:
help control erosion of the soil around your home

redirect water away from the house protecting foundation

protect your home from wood rot to the upper and lower portions of the home

work in conjunction with an underground irrigation system
W. Brothers Roofing can help you to prevent water and moisture damage to your home by installing affordable seamless gutter systems.
W. Brothers also offers Raindrop® Gutter Guard covers, making gutter maintenance a breeze!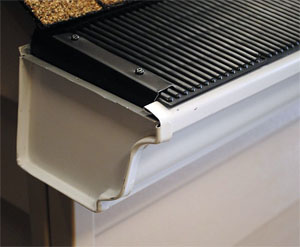 Only the best Gutter Covers
for our Customers!
W. Brothers Roofing offers gutter cover installation using only the best leaf proof gutter covers. Raindrop® Gutter Guard system handles more water than its competition and is more durable. These guards are more adaptable and fit virtually any and every gutter and roof out there. They keep clog forming debris out; in the winter, this helps control ice dams. Raindrop Gutter Guards look great, and most importantly are budget friendly. visit: gutter covers.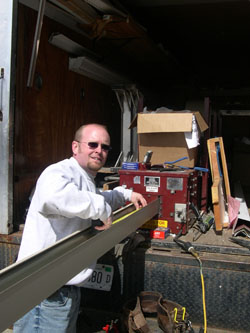 Other Services Provided by W. Brothers
Roofing, Palatine, Illinois